MACHINING, RECONDITION AND REPAIR OF MACHINE PARTS
Machining, recondition and repair of machine parts are activities of technical care, adjustment, repair or replacement of some components and details inside machines and equipment. To maintain or restore the normal operating state of the machine after a period of use.
To check the machine, the mechanic will compare the original manufacturer's specifications with the actual use condition. At the same time, perform periodic replacement of some components according to the mandatory fixed schedule in advance.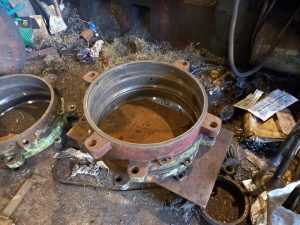 Machining, repair and recondition after machines are damaged
Repairing and recondition equipment after machinery breakdown for ships is very important and urgent
Periodic work only needs to perform a number of operations such as changing oil, changing grease, refurbishing the machine, ….
The processing, maintenance and repair will help reduce costs much more than new replacement.
Recondition according to machine condition
Condition-based recondition is usually carried out by professional companies, which have systems to monitor and handle the condition of anti-vibration.
Regularly check and recondition equipment and machine condition periodically. Only when machine problems such as repair, replacement, or tolerance can be accurately diagnosed, can a plan be made to stop the operation of the machine.
Purpose of recondition, equipment recondition
Check the machine's ability to run checks as well as the optimal machine temperature.

Determining the optimal maintainability of each type of machinery on board

Collect data on the operating time (from start of use to failure) of machines.

Collect data on the replacement time of some critical components.

Collect data about the warranty period as well as the cost of the warranty.

Find out the optimal types of spare parts.

Carry out analysis of the types of impacts that cause critical machinery, or damage,

Analyze the failure modes of machinery to come up with a plan to minimize damage at the lowest level.

Investigate undesirable consequences when machine failure occurs.

Study the distribution of failure time of each type of machinery.

Study the distribution of time from start of use to failure to calculate the average failure rate of machinery.

Research to find a way to reduce the number of components or parts in the machine.

Identify alternative repair options if the current plan fails for each type of failure.
Benefits of machine recondition
To increase the operational readiness of machines and equipment.

Minimize machine downtime.

Maximum cost reduction

Improve productivity for all kinds of machinery and equipment.

Reduce equipment repair costs.

Increase safety when using machines.
Make a plan for machining, repair and recondition equipment
Vital equipment: using a condition-based recondition method (monitoring product quality, vibration, wear, etc.), combined with a routine recondition method.

Important equipment: a condition-based recondition approach is recommended. It is necessary to plan to repair equipment or components immediately after showing signs of damage. For equipment that cannot be monitored, it should be checked immediately as soon as possible. For example, when the machine stops or the machine is temporarily not in use.

Types of auxiliary equipment: apply repair method when damaged or restore repair
HAI HA M&S we have many years of experience in machining and recondition equipment and machinery. At our workshop, we have a full range of machinery and equipment for machining, manufacturing and repairing work.
In field of Marine Main Engine Overhauling – Hai Ha M&S will bring you the best service and best price with highest quality and 24/7 available  . Our services:
HAI HA MARINE & SHIP REPAIR SERVICE Co.Ltd
Office: 44/82 – Vu Chi Thang Str, Hai Phong city – Viet Nam
Hotline 1 : +84 388-441-654
Hotline 2 : +84 886-441-654
Email: Technical@haihashiprepair.com
Email: info@haihashiprepair.com
Website: https://haihashiprepair.com
Please fill free to contact us as following address for any kind of marine and repairs service for your good vessel in Vietnam.