Marine Service Ship Repair in Son Duong Port
Son Duong deep-water port is invested by Formosa Group (Taiwan – China) with total capital up to one billion USD, with 32 specialized wharves, of which six berths for ships of 20,000 to 30,000 DWT; 20 berths for ships of between 30,000 and 50,000 DWT and six berths for ships of between 6,000 and 10,000 DWT. Total length of berths is 6,600m. The volume of goods through about 85 million tons / year. When completed, Son Duong was the largest specialized port in the region and also one of the ports with the most modern loading and unloading equipment in Vietnam.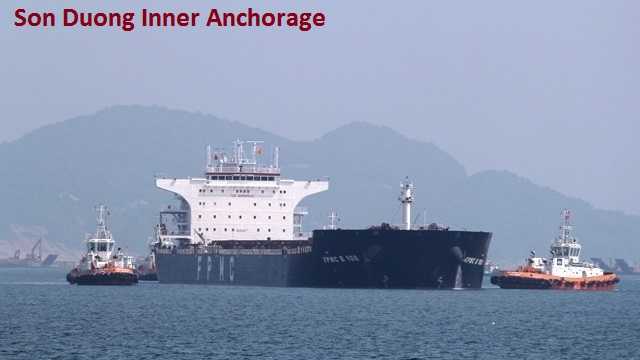 Currently, Formosa is urgently completing 11 berths (phase 1), of which: two berths for ships of 20,000 DWT, nine berths for ships of between 10,000 and 50,000 DWT, with an estimated volume of cargo throughput of 28 million. tons / year. And there are five wharves that have been allowed by the Vietnam Maritime Administration to temporarily operate for the project, allowing ships of 1-5,000 DWT to enter cargo …
Vung Ang – Son Duong promises to be the largest seaport system not only in Vietnam but also as the region, serving the economic development of the North-Central provinces, Laos and Northeastern Thailand.
Ha Ha M&S had been in long and good coperation with Son Duong Port, herein this area we are able to provide full range of shiprepair and marine service such as:Under water services, Steel work, piping , Machinary overhaul and Recondition etc
As a group our company Hai Ha M&S is providing the marine service and ship repair in Son Duong port as such underwater inspection, Hull cleaning, rewinding/overhauling electric motor, fabrication and steel work with quick team of mobilization, reasonable price and best quality,  We take care your repairs for your good vessel
In our workshop we are able to overhaul all kind of machinery such as pumps, winches, crane bolts, hatch cover wheels, etc. within house facilities, materials on stock and experienced technicians for prompt fabrication of damaged spare parts.Our engineers can also work on board for alignments works, changing bearings of generator, fan casings, engine works etc

Our primary goal in services is to ensure the fastest and best quality of repairs so as not to compromise the operation of the vessel. From a company of only a few men steadily grows to its present scale with more than 30 dedicated craftsmen. From a very well equipped workshop and our dedicated workforce, trucks, portable welding machines, diving equipment, auxiliary equipment and 24/7 availability, we can provide for you the following services.

Mission: To provide the highest quality across our full range of product sourcing and services, tailored towards total customer satisfaction and in line with the best business practices and global environmental safety standards for better service from enquiry to delivery with experienced staff and logistic support all over the globe.

Vision: A global leader in marine and ship repair , providing unequalled quality and professional service with the best interest and satisfaction of the client as our core values at all times

In field of Marine and Ship repair In Son Duong port – Hai Ha M&S will bring you the best service and best price with highest quality and 24/7 available  . Our services:

HAI HA MARINE & SHIP REPAIR SERVICE Co.Ltd

Office: 44/82 – Vu Chi Thang Str, Hai Phong city – Viet Nam

Hotline 1 : +84 388-441-654

Hotline 2 : +84 886-441-654

Email: Technical@haihashiprepair.com

Email: info@haihashiprepair.com

Website: https://haihashiprepair.com

Please fill free to contact us as following address for any kind of marine and repairs service for your good vessel in Vietnam.